2007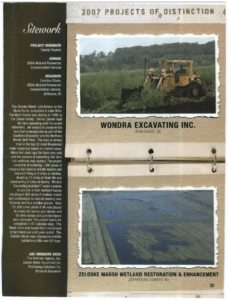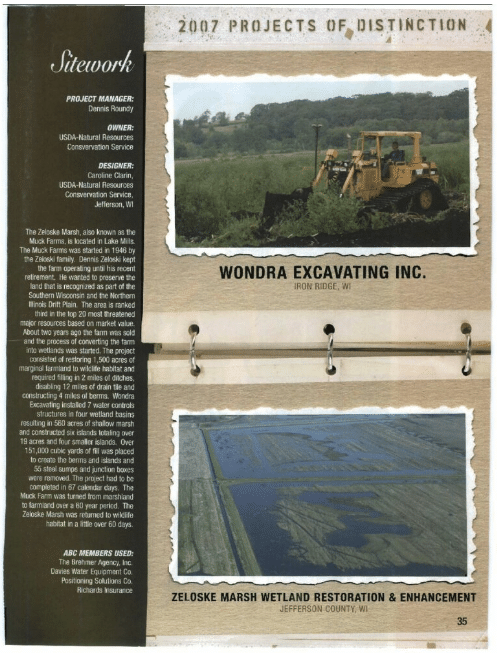 The Zeloski Marsh, also known as the Muck Farms, is located in Lake Mills. The Muck Farms was started in 1946 by the Zeloski family. Dennis Zeloski kept the farm operating until his recent retirement. He wanted to preserve the land that is recognized as part of the Southern Wisconsin and the Northern Illinois Drift Plain. The area is ranked third in the top 20 most threatened major resources based on market value. About two years ago the farm was sold and the process of converting the farm into wetlands was started.
The project consisted of restoring 1,500 acres of marginal farmland to wildlife habitat and required filling in 2 miles of ditches, disabling 12 miles of drain tile and constructing 4 miles of berms. Wondra Excavating installed 7 water controls structures in four wetland basins resulting in 560 acres of shallow marsh and constructed six islands totaling over 19 acres and four smaller islands. Over 151,000 cubic yards of fill was placed to create the berms and islands and 55 steel sumps and junction boxes were removed. The project had to be completed in 67 calendar days. The Muck Farm was turned from marshland to farmland over a 60 year period. The Zeloski Marsh was returned to wildlife habitat in a little over 60 days.
Wondra Construction was awarded the ABC National Excellence in Construction Pyramid Award for this project, as well as the ABC of Wisconsin Projects of Distinction award. They received the STEP Gold level safety award in 2006, and the Wisconsin Underground Contractors Association safety award for outstanding safety performance in the 50,000 to 100,000 man hour category.